Progressive rock with thought-provoking lyrics and Celtic musical nuances.
Melancholy Circus takes the boiled-down essence of influences from a life lived and examined, from music, literature, history, and cinema and creates plains of dissimilar existence and deep caves of thought that touch upon the dark irony of life.
Unafraid to reveal, view, and display the beauty in all things, Melancholy Circus creates visuals and soundscapes of desire, love, life, hope, and lament. Every song is different and every song is tied together. The name Melancholy Circus is the juxtaposition of dissimilarities, and isn't that what life truly is when you stop looking on the bright side of things and start looking at both sides of things.
---
Access a PDF file of the original/unedited lyrics for The Therapy You Need, which includes a verse on Field of Flies that didn't make the final cut, songs with spoken word/poetry that was never used, and some lines that were edited for singing purposes.
---
Band
Shaun: vocal, guitar, synth
Vinnie: bass, mandolin, vocal
Michele: drums/percussion
---
Influences
There is a long list of influences in music, literature, cinema, and the universe, including Rush, Black Sabbath, Genesis, Jethro Tull, ELP, Deep Purple/Blackmore's Rainbow/Night, Yes, Pink Floyd, The Tubes, King Crimson, Alice Cooper, Kate Bush, The Sisters of Mercy, Alice in Chains, The Cure, Kiss, Type O Negative, Blue Oyster Cult, Tool, The Psychedelic Furs, The Tea Party, Loreena McKennitt, Porcupine Tree, Radiohead, Opeth, Metaphysics, Sacred Geometry, the occult, the old world, Edgar Allan Poe, H.P. Lovecraft, Joseph Conrad, and horror movies - oh yes, horror; most of all, anything by Hammer Horror Films.
Recently, Melancholy Circus has been influenced by waning light and the growing lack of true spirituality in this world.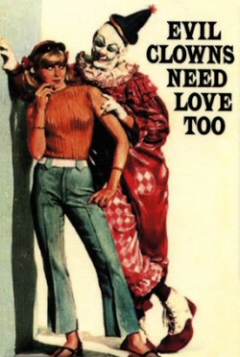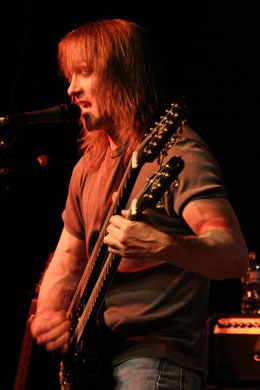 Get your copy of The Therapy You Need, currently playing on this Website:
Larger version of cover photo.
The songs on The Therapy You Need speak of relationships of intimacy, family, friendship, and interaction within the sociopolitical realm, as well as old-world stories that point to present day facts, showing that history does indeed repeat itself.
Is the album title offering, in hope, that this is the therapy you need, or have you ignored the call too long, bringing the circus to your door?
---
The next image was the cover for Melancholy Circus' first album - a 4 song EP from 1998. The album is not eponymously named though, as some people thought, but rather, the name of the album is One. You see it now, don't you? We knew you would.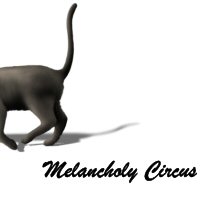 ---
The following form can be used by fans, media contacts, and booking agents to relate or ask for any kind of information.

We now have men's and women's T-shirts available! They're high quality and only cost $12.00 each. We have men's Ts and women's baby Ts.
Larger picture of t-shirt front (PDF).
---
Melancholy Circus Live!
The Circus is coming to an area near you, and here are current and past dates with directions on linked venue Web sites: